We will meet you halfway with your puppy for a delivery fee based on the mileage and if we need to spend the night, we also have a pet nanny service that will fly your puppy to an airport near you & a ground nanny who will deliver your puppy to your door.
Lydia & Jax due any day now!!!
Dottie & Gunner due the 3rd week in September
Louise & Bull puppies due the 2nd week in October.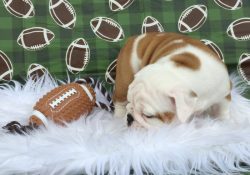 This sweet little girl has spunky attitude! She loves to play and get silly. She comes Full AKC Registration, all vaccinations and worming up to date and a one year health guarantee. Ready to go September 25, 2019 Continue Reading
Whitey is all white except a little fawn dot on his right ear. He has lots of attitude at times! He come Full AKC Registration, will come up to date on vaccinations and worming also a 1 year health guarantee. Ready to go September 25, 2019. Continue Reading
Spot is all white except the fawn on his tail. He has the sweetest loving personality. He comes Full AKC Registration and  will come up to date on vaccinations and worming. Will also come with a  1 year health guarantee. Ready to go September 25, 2019. Continue Reading