We will meet you halfway with your puppy for a delivery fee based on the mileage and if we need to spend the night, we also have a pet nanny service that will fly your puppy to an airport near you.
Louise & Bull puppies are here!
Mia & Bull puppies due the week of Thanksgiving!!
Pooh & Bull Puppies expected the second week in December
Lilly & Bull puppies expected around Christmas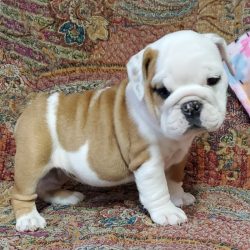 Dot is a super cute and fun little girl!  She comes with Full AKC Registration, all vaccinations and wormings up to date and a one  year Health Guarantee.  Call or come by and see her anytime. Continue Reading
This sweet little girl is full of spunk and loves to play!  She comes with Full AKC Registration, all vaccinations and dewormings up to date and a one year Health Guarantee.  You are welcome to call or come and see her anytime.  Cassie will be ready to go the first week in December. Continue Reading
This sweet baby girl will be ready for her new home on December 10th – just in time for Christmas!!  She comes with Full AKC Registration, all vaccinations and dewormings up to date and a one  year health Guarantee.  You are welcome to call or come and see her anytime: Continue Reading